| | | |
| --- | --- | --- |
| | Joint International GMOpposition Day: April 8, 2006 | |
---
A worldwide event (see the International Program and reports) was held on the 8th of April 2006, with the twofold aim of informing people and demonstrating the front of concerned citizens and organizations against GMOs (both open-air plants and food). This action developped according to a given Agenda, was distributed over several Information Sites, possibly linked through Internet video connections.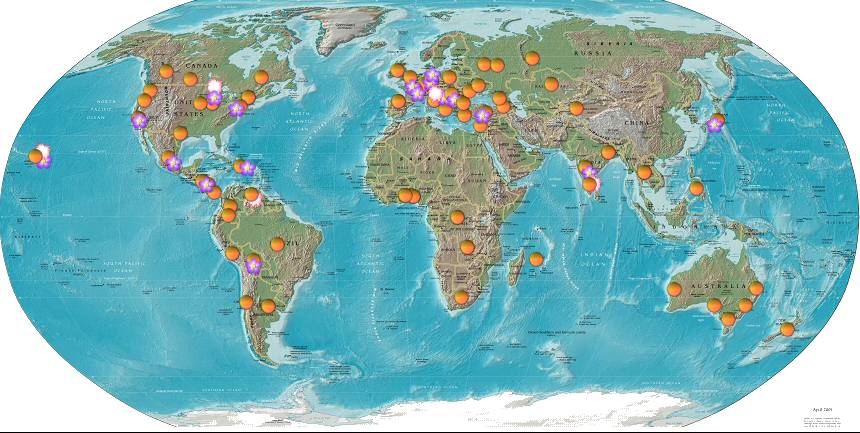 ---
SPECIAL FEATURES
& International video-conference On the 8th of April 2006, Local teams with an Internet Video Connection were aware of simultaneous activities in other world districts. After a quarter of simultaneous connection involving Japan, Hungaria, Austria, Paris and Besançon (France), the image of an unreadable manuscript that contained a grining Smiley suddendly appeared at the place of the 5 videoconference windows. The full connection could not be reinstalled after this, except with Hungaria and later on with Berkeley.
Last preparation before the videoconférence : Japan, Turkey, France, Austria (1 mn 27)
click here >> Vandana Shiva contribution (9 mn 50) << pre-recorded on the 3rd of april for being broadcasted during the videoconference
click here >> Contribution of Brian Tokar & friends, from Blue Hill, USA (19 mn) << recorded on the 8th of April
Silent memory : Paris, Berkeley and Besançon (2 mn 23) << late on the 8th of April
Video-conference
between 4 distant groups of speakers
Time-Table

1. Updated PC computer (Pentium III 800 MHz processor or equivalent, 256 MB RAM and 50 MB free disk space on your hard drive), working under Windows XP.

2. Access to the internet: good quality, reliable broadband absolutely necessary (512K at least: a public institution would provide that, in an auditorium, classroom, ...).

3. Webcam (to the left of the computer in the figure).

4. An account on a videoconf Platform for talking to other partners for free. An account will be open by the coordination for each participant team.

5. Computer video-projector and screen (right of the figure)

6. Audio system (amplifier and speakers) to connect the computer onto.

7. Appropriate lighting (see the figure)
&& letter written by independent scientists and co-signed by organizations and citizens

The down-loadable 1-page letter summarizes many of the risks and problems of genetically engineered organisms. It will notably be read out during the international video-conference of the JIGMOD on 8 April, 2006.
The letter, written by a team of scientists and others, is primarily aimed at parliamentarians. It therefore emphasizes health risks—a particularly sensitive topic for law makers. The letter may also be used to highlight risks for shareholders of biotech companies.
Supporting signatures are welcome from scientists, as well as members of farmer-, consumer-, and political-organizations. (You are welcome to sign as a member, even if you are not signing on behalf of your organization.)
To become a signer, simply send an email to AlterCampagne. Include your name, profession, country, and whether you are signing as a scientist, as a member or officer of an organization, as a world citizen. The list of signatories is updated on this website.
« Dear Parliamentarian,

The current generation of genetically modified (GM) crops uneccessarily risks the health of the population and the environment. Present knowledge is not sufficient to safely and predictably modify the plant genome, and the risks of serious side-effects far outweigh the benefits. We urge you to stop feeding the products of this infant science to our population and ban the release of these crops into the environment where they can never be recalled.
(...)
Please act today to protect our health, our environment, and future generations. »
&&& Peasant Seeds : a pre-existing alternative to GMOs
These fruits and vegetables are delicious, but forbidden to sell, to exchange, and to give.
You may have discovered why the 8th of April at the "Peasant seeds" stalls of the world regions.
&&&& JIGMOD : Joint International GMO Drawing
&&&&& Beacons of fire at the top of the hills, at sunset, the 8th of April
How was it possible to get ready?
---

Team which officially co-ordinated the JIGMOD for France:

Anne Bringault (Friends of the Earth - France)
Magali Ringoot, Arnaud Apoteker (Greenpeace - France)
Guy Kastler (Nature & Progrès)
Juan Roy de Menditte (ATTAC - France)
Michel Dupont (La Confédération Paysanne)
Vincent Perrot (FNAB)
Arnaud Gossement (FNE)
Stephen Kerckhove (Agir pour l'Environnement)
Dominique Béroule (Amis de la Confédération Paysanne, Attac, Greenpeace)
Maxime Lamy : JIGMOD Secretary


Downloadable Logo
(printable version for poster, banner...)

stick-on labels available on request

---

Dear partners,

At "D"-1 : there are official events planned in 247 localities and 72 states across the world, where about 1500 different types of actions will be carried out.
Thank you so much for this synchronized move towards a better planet.

Whatever may happen on the 8th of April 2006, our joint project is already useful, given the fullness of our mobilization, including the links created at both local and global levels.
Without having been led by an international structure, we, citizens of the world, have shown that we were able to set up a common front opposing the financial interest of a few AgroBiotech multinationals.

Not everybody could work out a big "Information Site" or a demonstration, but this is not the point. Because of our mutual solidarity, any downtown stall, any countryside beacons of fire will be amplified by the simultaneous actions carried out the very same day, everywhere on earth.

This "D" Day is not an end. This may be a starting point for a global resistance instead, and, hopefully, the beginning of the end for the current global GMO invasion.

Dom of Chevreuse

Acknowledgements:
Thank you in first place to those who participated in the setting of their local event.
For their early and continuous involvement in this project, special thanks to :
Gerald of St David's, Jürgen of Stuttgart, Brian of Plainfield, Ignacio of Berkeley, Wolfgang of Wuppertal, Arpad of Hungary, Jeffrey of Fairfield, Jadwiga and Julian of Krakow, Annick of Charleroi, as well as to the French coordination team, including in particular: Eléa of Créteil, Maxime of Paris, and last but not least : Juan Roy of Paris.